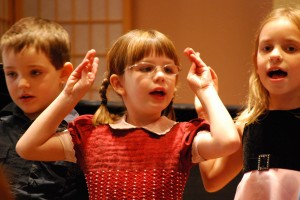 Rehearsals Start in September. Registration is Open.
The Children's Choirs (CC) offer the children and youth of First UU a high level of vocal musical experience and the opportunity for personal expression of faith. Participation fosters dedication, community, and teamwork while having a joyous time throughout the musical journey.
During rehearsals, singers learn about healthy vocal production, including resonance, projection, beautiful tone, and breath management. Choir participants explore fun, age-appropriate music that focuses on singing in the context of self-awareness, cooperation, and creativity.

The musical curriculum draws primarily from songbooks compiled by the UUA (e.g., Rise and Sing).

The elementary choir is for children in approximately grades K-3, while the secondary choir is for youth in grades 4-8 (adjusted at the directors' discretion).

The elementary children's choir director may allow younger children to participate, but parents of those children may be required to attend rehearsals and/or musical offerings.

The children's choir offers a total of four exciting sessions, two in the fall and two in the spring.

Each session culminates in multiple musical offerings showcased during both First UU Sunday morning worship services. There may be special musical offerings at other times during a session.

At some musical offerings, one or both of the children's choirs join with the adult choir to form a full Intergenerational choir.

Sunday rehearsals run from 9:30-10:15 a.m. (during the first service-9:15 and concurrently with the first RE session). Children join their parents for the first 15 minutes of the service and are then sung out to join the children choir directors who wait for them in the foyer to escort them to rehearsal (Rooms 13 A/B-Primary and 11-Secondary).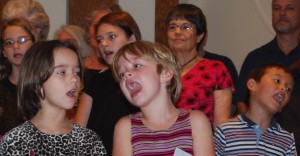 To enroll your child in the choir, simply complete your Lifespan Faith Development Enrollment form and note that your child would like to participate in children's choir.
Have more questions? Contact us!
Caroline Moore – Director of the First UU Elementary Choir (grades K-3)
Email:
Brigitte Smith – Director of the First UU Secondary Choir (grades 4-8)
Email: