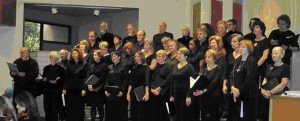 Music at First UU is an integral part of our worship. We are fortunate to have an exciting and gifted music program under the leadership of Brent Baldwin.
Adult Choir (AC) provides our congregation a high level of vocal musical experience and the opportunity for personal expression of faith. Participation fosters dedication, community and teamwork while having a joyous time along the musical journey. Through the sharing of music in services, we aim to nourish souls and enhance the worship experience for both musician and congregant.
During rehearsals, singers learn about healthy vocal production, including resonance, projection, beautiful tone, and breath management. Together, choir participants collaboratively engage in a musical process of self-awareness, cooperation, community and creativity.
AC sings an eclectic array of musical styles, drawing from classical, pop, world, and beyond.
AC collaborates with a wide variety of exciting instrumentalists and guest artists.
AC is open to anyone 15 years old and up without audition. No prior choir experience is required.
AC rehearses on Wednesday nights from 7-8:45 pm in the Sanctuary, and sings for select morning services throughout the year (except during the summer).
AC often joins forces with the church's Children's Choirs to form the First UU Intergenerational Choir, the largest and most dynamic intergenerational group in the church.
Not sure about participating in Adult Choir? Try out a rehearsal with no obligation! Just come, or contact the Adult Choir Coordinator at  for more information.